Posted at Sep 23, 2014 6:00 am in Love and Other Unknown Variables, Shannon Lee ALexander, Transformation Tuesday, YA Reader Appreciation Week

Today I'm happy to host Shannon Lee Alexander for YA Reader Appreciation Week, talking about the publication journey of LOVE AND OTHER UNKNOWN VARIABLES.
Love and Other Unknown Variables began many years ago. Its journey to publication has been long and pocked with pitfalls, but I learned so much along the way. It's not only my debut novel, but it became a way to process the reality of my friend's cancer and eventually, her death from ovarian cancer. This novel is 100% a labor of love and I wouldn't want it any other way.
Love and Other Unknown Variables was a very different story when I first began. It was titled Charlie Hanson Finishes Last (and How the Universe Cheats). It was lighthearted and free of heartbreak. It was a cute story, but it wasn't the one I was meant to tell. It wasn't Charlie's true story.
I queried only one agent for this first version of Charlie's story and it was rejected. The agent's rejection was actually instrumental in making Love and Other Unknown Variables into the story it is today. She said she loved Charlie's voice and perspective, but was passing on representing his story because the stakes weren't high enough. After a good cry on my husband's shoulder, I decided to start over. She was right. I'd let my fear of failure get in my way. I needed to be brave like Atticus Finch.
We were moving at the time, and once I was established here in Indiana, I reached out to my local SCBWI chapter and found a critique group. Mike Mullin, Robert Kent, Jody Sparks, Lisa Fipps, and Virginia Vasquez Vought (we've since added Julia Karr and Josh Prokopky) tore my story apart limb from limb. And then they helped me put it back together. We call ourselves the YA Cannibals because our critiques are always honest and sometimes that honesty feels a little like having someone snack on your spleen. Without their help, I'd have never been able to shape this story into the gem it is today.
Once I had a draft that got the Cannibal thumbs up, I began querying agents again. On a sunny day in July 2013, I got a call from Jessica Sinsheimer of the Sarah Jane Freymann Literary Agency. Within minutes of speaking with her, I knew she was the one for me. Passionate, intelligent, and kind, Jessica was the only person I could imagine championing Charlie's story for me.
We worked on more revisions before submitting it to publishers in September. Within weeks, Heather Howland from Entangled Publishing called to discuss placing Love and Other Unknown Variables with the Entangled Teen line. Again, after talking with Heather, I knew this was where Charlie belonged. And every interaction with the staff at Entangled since then has reiterated that for me.
The most telling thing about my path to publication is that there were so many moments when I could have quit, but instead of looking at setbacks as negatives, I tried to learn from them. Every misstep was a chance to grow my craft, to develop better writing skills, and practice trusting my instincts. I'm proud of all the growing Charlie does in Love and Other Unknown Variables, but I'm also proud of my own growth as a writer. And if I can conquer my fears, then you can, too.
Tweet about a fear you've overcome or one you're still working to overcome, and be sure to tag me @shanlalexander and use the #LoveAndOtherUnknownVariables hashtag. A winner will be chosen at random to receive a Teal Toes prize pack. Teal Toes is an organization dedicated to spreading ovarian cancer awareness, a cause near and very dear to my heart.
Love and Other Unknown Variables releases from Entangled Publishing October 7, 2014.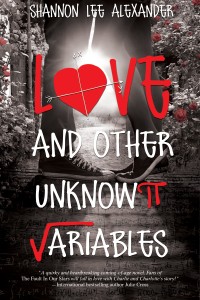 Charlie Hanson has a clear vision of his future. A senior at Brighton School of Mathematics and Science, he knows he'll graduate, go to MIT, and inevitably discover the solutions to the universe's greatest unanswerable problems. He's that smart. But Charlie's future blurs the moment he reaches out to touch the tattoo on a beautiful girl's neck.
The future has never seemed very kind to Charlotte Finch, so she's counting on the present. She's not impressed by the strange boy pawing at her until she learns he's a student at Brighton, where her sister has just taken a job as the English teacher. With her encouragement, Charlie orchestrates the most effective prank campaign in Brighton history. And in doing so, he puts his own future in jeopardy.
By the time he learns Charlotte is ill—and that the pranks were a way to distract Ms. Finch from Charlotte's illness—Charlotte's gravitational pull on Charlie is too great to overcome. Soon he must choose between the familiar formulas he's always relied on, or the girl he's falling for (at far more than 32 feet per second).
To preorder Love and Other Unknown Variables, click here.
Shannon Lee Alexander is a wife and mother (of two kids and one yellow terrier named Harriet Potter). She is passionate about coffee, books, and cancer research. Math makes her break out in a sweat. Love and Other Unknown Variables is her debut novel. She currently lives in Indianapolis with her family.