Posted at Oct 31, 2014 8:00 am in Because You Exist, cover reveal, Tiffany Truitt
Today I'm excited to participate in Tiffany Truitt's cover reveal for her amazing new YA novel, BECAUSE YOU EXIST.
Available November 11, 2014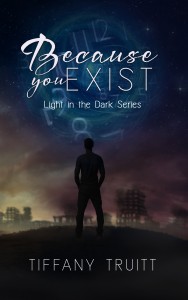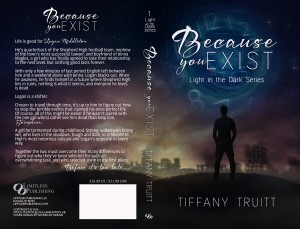 Life is good for LOGAN MIDDLETON.
He's quarterback of the Shepherd High football team, nephew of the town's most successful lawyer, and boyfriend of Jenna Maples, a girl who has finally agreed to take their relationship to the next level. But nothing good lasts forever.
With only a few minutes of last period English left between him and a weekend alone with Jenna, Logan blacks out. When he awakens, he finds himself in a future where Shepherd High lies in ruins, nothing is what it seems, and everyone he loves is dead.
Logan is a shifter.
Chosen to travel through time, it's up to him to figure out how to stop the terrible events that claimed his once perfect life. Of course, all of this might be easier if he wasn't paired with the one girl who'd rather see him dead than help him, JOSEPHINE.
A girl he tormented during childhood. Strong-willed with biting wit, who lives in the shadows. Tough and dark, Jo is Shepherd High's most notorious outcast and Logan's opposite in every way.
Together the two must overcome their many differences to figure out why they've been selected for such an overwhelming task, and who selected them in the first place.
Before it's too late…
Pre-Order Today:
About the Author:
Tiffany Truitt was born in Peoria, Illinois. A self-proclaimed Navy brat, Tiffany spent most of her childhood living in Virginia, but don't call her a Southerner. She also spent a few years living in Cuba. Since her time on the island of one McDonalds and Banana Rats (don't ask), she has been obsessed with traveling. Tiffany recently added China to her list of travels (hello inspiration for a new book).
Besides traveling, Tiffany has always been an avid reader. The earliest books she remembers reading belong to The Little House on the Prairie Series. First book she read in one day? Little Woman (5th grade). First author she fell in love with? Jane Austen in middle school. Tiffany spent most of her high school and college career as a literary snob. She refused to read anything considered "low brow" or outside the "classics."
Tiffany began teaching middle school in 2006. Her students introduced her to the wide, wonderful world of Young Adult literature. Today, Tiffany embraces popular Young Adult literature and uses it in her classroom.