Posted at Apr 23, 2015 8:49 am
Stonehenge Replicas in How (not) to Fall in Love
I've heard from some readers asking me about the "clonehenges" mentioned in the book, so I thought I'd share some info about them.
Some of the replicas mentioned in the book are real, others are figments of my imagination. Though I made up the "Clonemaniac" website, you can find a lot of information about U.S. clonehenges at www.roadsideamerica.com and www.clonehenge.com.
Real Replicas (from the postcards Darcy's dad sends):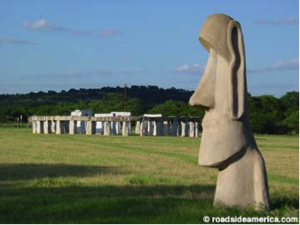 Ingram, Texas – Stonehenge II was built by Al Shepperd and Doug Hill in 1989 in a pasture. It includes a Stonehenge replica as well as two Easter Island head replicas. In 2011 the henge was moved a few miles east of its original spot to the grounds of the Hill Country Arts Foundation.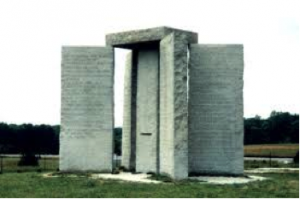 Elbert County, Georgia – The Georgia Guidestones were built in 1979, funded anonymously under the pseudonym R.C. Christian. Though not a Stonehenge replica, the guidestones are often listed along with other Stonehenge replicas. Ten philosophical guidelines are engraved in eight different languages on the stones, including the tenth one, which Darcy's father quotes on his postcard: "Be not a cancer on the earth. Leave room for nature."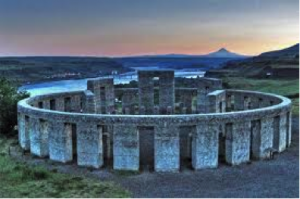 Maryhill, Washington – This replica was commissioned in 1929 as a memorial to soldiers who died in World War I. Construction began in 1918 and was finished in 1929. Samuel Hill, a wealthy railroad magnate, was also a Quaker and a pacifist. He is buried in a crypt close to the replica.
Fake Replicas:
Montana – The stonehenge on private property in Montana (where Darcy almost gives up on her quest) is imaginary, as was the gun-toting owner. However, it was inspired by reading about an actual-sized replica built in Fortine, Montana by inventor Jim Smith on his private land.
 Wyoming – The replica in Wyoming where Darcy finds her dad is purely a product of my imagination, as is the town Blue Spruce.