Posted at Jul 25, 2016 6:00 am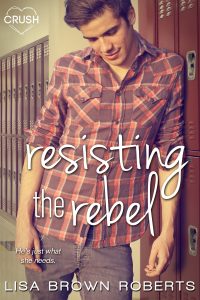 Often, my characters arrive in my mind fully formed, demanding their stories be told. In this case, it was different. I'm a hardcore Sky High fan and have shipped Warren and Layla ever since I saw the movie (and at this point I don't even know how many times I've watched it). That scene in the restaurant when he lights the candle with his finger? Slays me every time.
So when it was time to write another Crush book for Entangled Teen, who should show up in my mind demanding their happy ending but Warren and Layla? Of course I re-watched the movie for inspiration, and certain scenes on YouTube over and over and over…(rough author research).
This book isn't an exact retelling, of course, because I'd be in big trouble with Disney if so, but I used Warren and Layla as my launching point for creating Caleb and Mandy, and I added a few winks and nods to the movie for my fellow diehard Sky High fans.
If you like bad boys with big hearts, and like to see the girl get the right guy for her happily ever after (not the wrong guy she thinks she wants), I hope you'll check out RESISTING THE REBEL!