Posted at Sep 14, 2015 6:00 am
I'm so excited to share this book with you because I had so much fun writing Trina and Slade's story. I love romantic comedies, and writing this one was more fun than binge-watching Downey and Depp and Cumberbatch, while simultaneously scarfing Chocolove chocolate bars. Really.
Thank you to Entangled Publishing for selecting Playing the Player to be part of their fun new Crush imprint. It's an honor to be part of such a terrific line-up of YA romances! Galaxy-sized thank you hugs to my critique group; to my RWA, RMFW, and SCBWI friends; and to my family, who is my constant source of support.
To the amazing readers and bloggers who are supporting me as a new author: it's hard to find the words to thank you, but I'll keep trying by writing many, many words in the form of new books for you!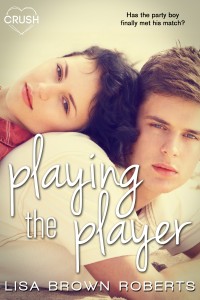 Trina Clemons needed the money. Why else would she—the most organized, prepared student in school—spend the summer as a nanny and partner with the biggest slacker ever? Now she's ready to tackle nannyhood with her big binder of research and schedules. Just don't ask her about the secret job of "fixing" the bad habits of a certain high school player…
Slade Edmunds prefers easy hook-ups, and Trina is definitely not his type. She's all structure and rules, while Slade wants to just have fun. Fortunately, Trina has no idea about the bet Slade made with his best friend that he can totally get her to unwind by the end of summer…
Then the weirdest thing happens. There's chemistry. A lot of it.
But nothing gets between a boy and a girl like a big, fat secret…
"You will laugh, you will sigh and you will swoon. *Playing the Player* will play with your emotions… and you will love every moment of it because Slade and Trina are worth it." – Paula M. of Her Bookish Thoughts
"For the love of all things adorable, swoony, and chick flick-like, you need to read Playing the Player! It was adorable from the very beginning to the very end."- Katie from Reading Transforms
Available at ebook sellers everywhere!