Posted at Nov 21, 2013 5:00 am in George Saunders, kindess, Thankful Thursdays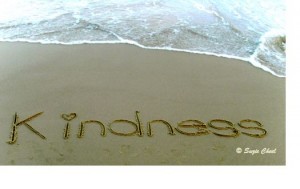 This Thankful Thursday, I'm linking to a beautiful speech about kindness by George Saunders. He says so eloquently the things I'm learning as I get older. Like Mr. Saunders, I regret many "failures of kindness" in my own life, moments large and small that I wish I could do over. But as a friend reminds me often, it's important to be gentle with ourselves when we think of regrets. I'm grateful for the opportunities for kindness that will present themselves today.
An excerpt of Mr. Saunders' commencement speech is quoted below, and I highly recommend taking a few minutes to read the whole speech:  George Saunders' Advice to Graduates: Be Kind
"So here's something I know to be true, although it's a little corny, and I don't quite know what to do with it: What I regret most in my life are failures of kindness. Those moments when another human being was there, in front of me, suffering, and I responded…sensibly.  Reservedly.  Mildly.
Or, to look at it from the other end of the telescope:  Who, in your life, do you remember most fondly, with the most undeniable feelings of warmth? Those who were kindest to you, I bet.
It's a little facile, maybe, and certainly hard to implement, but I'd say, as a goal in life, you could do worse than: Try to be kinder."