Apollycon 2020! Meet me in D.C.!
I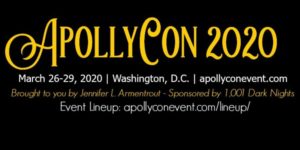 'm thrilled to announce I'm attending Apollycon in 2020! I can't wait!
Event: Fantastic Author/Reader Event!
Date: March 26-29, 2010
Location: Washington, D.C.
I respect your privacy and will never rent, sell, or give away your personal information.
Book release news, exclusive excerpts, giveaways and more! No spam; I pinkie promise!